SDev Cares Brings Joy to Pediatric Cancer Patients
at Bahay Aruga
SDev Tech, a leading software development company, recently held its first Corporate Social Responsibility (CSR) activity for the year at "Bahay Aruga" last Saturday, March 18, 2023. Bahay Aruga is a free halfway house for pediatric cancer patients located in Manila, Philippines.
The company's CSR activity aimed to provide assistance and support to the children and families who are undergoing the challenging journey of fighting cancer. The event was filled with various activities that brought joy and happiness to the children, giving them a break from the daily struggles of cancer treatments and hospital stays.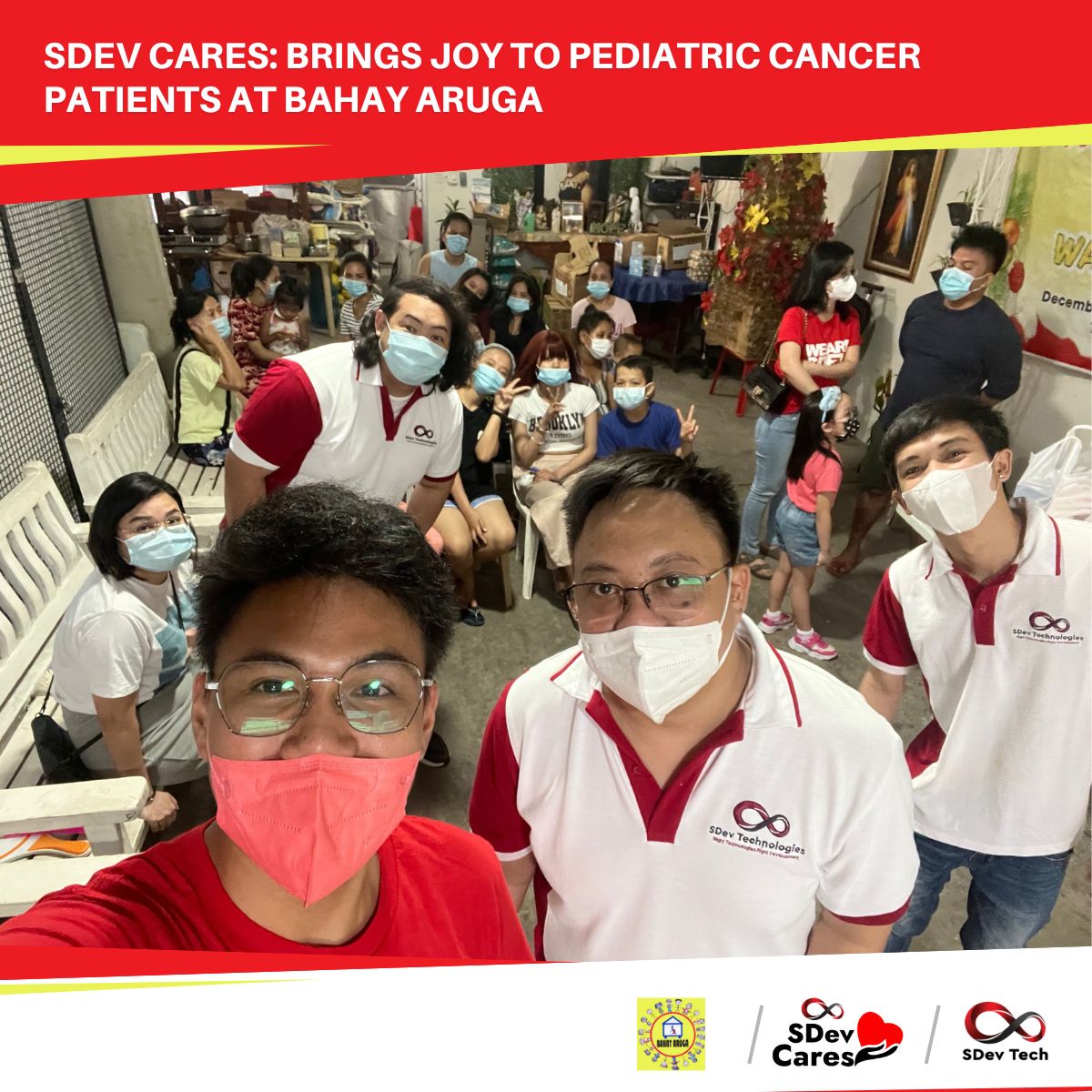 The SDev Tech team, led by its Chief Executive Officer Chris Soriaga, spent the day interacting with the children, sharing stories, and providing assistance in any way they could. The team also brought along various goodies that are essential in their daily lives.
The event kicked off with a brief orientation about Bahay Aruga and its mission to provide a safe and nurturing environment for children with cancer. The SDev Tech team also got to meet the staff and volunteers who dedicate their time to caring for the children.
CEO Chris Soriaga expressed his gratitude to the Bahay Aruga team for allowing SDev Tech to be part of their cause. He emphasized the importance of giving back to the community and how it aligns with the company's core values.
"We are privileged to be able to help in any way we can, and we are grateful to Bahay Aruga for giving us this opportunity. It is our responsibility as a company to give back to the community, and we will continue to do so on our CSR activities thru SDev Cares which is SDev Tech's CSR arm." said Chris Soriaga.
The event was a success, not only in bringing joy to the children but also in raising awareness about the importance of supporting pediatric cancer patients and their families. The SDev Tech team left Bahay Aruga with a sense of fulfillment and inspiration to continue their CSR efforts.
In conclusion, SDev Tech's CSR activity at Bahay Aruga was a heartwarming experience that brought smiles to the faces of the children and their families. It is a testament to the company's commitment to making a positive impact in the community. This event serves as a reminder that we all have a role to play in making the world a better place, and we can all make a difference, no matter how small it may seem.